School Canteen Construction for Secondary Highschool in Chyangli, Nepal
Jeeven Jyoti Higer Scondary School is one of the largest public schools located at the remote area of Nepal. The school current has 1200 students, ranging from 5 to 18 years. The majority of the students come from adjoining localities, with around 73 per cent of the students having to spend 2 to 2 ½ hours to get the school every day. They have breakfast before 8 am and return at around 6 pm in the evening. This entire time they go without food. Neither can their parents supply them with food, nor can they buy snacks due to their poverty. This leaves the students to study on an empty stomach, impeding their academic performance.
In the villages live poor farmers from the ethnic group Kumal in a dominant level where the situation of health and education is dire.
Putting this burning problem at the centre, we are seriously thinking of constructing a kitchen house building in order to provide school children fresh soup/ snacks within the school premises. "It is a universal fact that an empty stomach cannot support in study".
Following strategies will be adopted for the launch of kitchen house construction:
1. NRs 10 from each student will be collected by the school everyday which is a negligible nominal amount that is easily affordable for the parents as well.
2. The school has a large area of land and that allows it to teach agriculture as a vocational subject. Hence, the students of senior classes can be used for growing fresh and seasonable vegetables and fruits under practical class so that it can be used in the kitchen house, which ultimately contributes for the improvement of health situation of the school children.
3. Bio-gas will be produced from the safety tank of the toilet and it will be used as fuel energy in the kitchen house to prepare lunch so that the cost of the lunch also goes down.
4. The drain pee after the school toilet will be collected in a separate tank and will be sold as a highly popular fertilizer and pesticide in agriculture. 50% of amount collected from the sale of pee will be used in the kitchen expenses and 50% for sustainability of the project. The cost of the drain pee is NRs 4 - 5 per lit.
5. During holiday and on weekends the dining hall and kitchen could become used for different workshops (cooking or bakery workshops) and rented for cultural events as well.
Construction Planning:
1. The hall will accommodate 300 children at one time. The lunchtime will be split into four time periods, 30 min for each group.
2. Construction of the building/hall will be overseen by an architect to ensure the safety and structural integrity and for earthquake safety.
3. Required furniture, utensils required in cooking and having foodstuffs will be managed properly.
4. Kitchen and dining hall will be constructed with separate entrances and required infrastructures will be managed / developed..
Expected results:
•    Gradual improvement in the health situation of the school children and neatness and tidiness of the school area
•    Improvement in significant level in teaching- learning activities.?
•    Increasing awareness of downtrodden community and the ethnic group.?
•   Awareness and the respect to the child's rights of healthy and timely food, quality education and study of healthy environment.
Regarding to this our organization (NHHO) hopefully and humbly seeks your financial support to realize this project, that we can help poor and helpless children in remote village of Nepal to their fundamental rights of healthy food. The costs for this project will be 42.000€, including the construction of the building, kitchen facilities, furniture and dining equipment. For 36€ only one children could get a lunch every day during the whole school time!
We are glad to take the opportunity to inform you that the entire program is going to be launched in the bold and philanthropic initiation of German Aama (mother), Auf der Schleide 97, 53225 Bonn, Germany, kputtkammer@gmx.de) Mrs. Karin Puttkammer.
Every one of us (school family, village development committee family and NHHO family) expresses our sincere gratitude to her, her kindness and insight.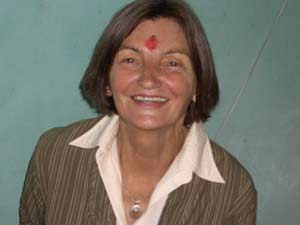 For donation in Germany:

http://www.betterplace.org/de/projects/9310
in Nepal:

Nepal: Nepalese Humanitarian Help Organization(NHHO).
Prime Commercial Bank LTD.
Balaju Branch, Kathmandu, Nepal
Bank A/C NO: 007 00700116 CA
(US $ A/C) : 007000010 B
Swift Code NO:PCBLNPKA
Estimated Budget : 50,000 euro
Project location